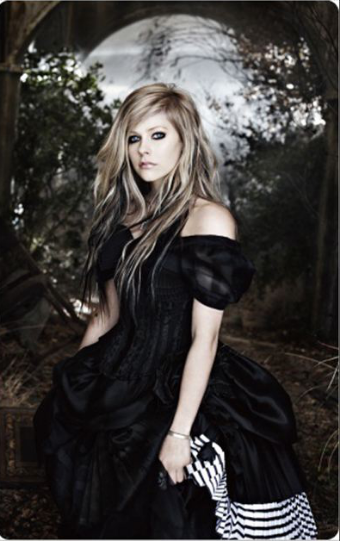 Gothic Style – Leading the Fashion Trend of the 21st Century
Gothic style, also known as a dark and mysterious one, slowly but surely is becoming one of the leading fashion trends of the 21st century. Gothic is nowadays a widespread style of art used in clothing, architecture, literature, painting, sculpture, music, and other art fields.
The main characteristics of the Gothic style are: eerie, mysterious, terrifying, and towering. So, what is so mysterious and creepy about it? Proponents of this style usually wear black with unavoidable Gothic accessories and have a strong black makeup on. What is interesting about this trend, is that a lot of Gothic men also use makeup, much more than in the other fashion cultures.
Gothic accessories
How to achieve a Gothic scary style by wearing the Gothic accessories?
Gothic jewelry became very popular nowadays due to many Vampire movies, and books, as well, such as the "Twilight" series, for example.
Here are some of the most popular accessories among Goths, which represent the reflection of this dark art:
Gothic Style Cross: This is definitely an essential part of the Gothic culture. Both, men and women adore to wear this item, and to show that they belong to the Gothic culture.
Pentacle: This is the mysterious talisman usually used in magical evocations, and it definitely contributes to the mystery of this style.
Black velvet pearl choker: The most popular accessory among Goth women, which make them look powerful.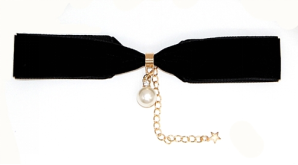 Bat or Dragon: They both represent something terrifying, something that people are usually scared of.
Cape: This is the symbol of the Vampire, and as Goths like to be dark and scary, as well, this is also a very popular item among them.
Shawl: If possible to be all black.
So, how to present a handsome Gothic effect with clothes? You should always keep in mind that choosing the right Gothic accessory could perfectly complete your Gothic look. If you decided to wear a Gothic gown, for example, you should definitely combine it with some massive piece of jewelry, such as a large metal Gothic cross.
The makeup of Gothic style
Gothic makeup, also known as a dark side of beauty, is something you should definitely learn if you want to be a part of this mysterious culture.
The first and essential step of Gothic makeup is a pale skin. The paler you are, the better. Pale skin is usually well combined with matte looks.
The second step is to choose the right lipstick. It's not necessary to be black, it could be any dark color, as well: maroon, or purple. But, this is not the rule. You can use bright lipstick, for example, just like Avril Lavigne did for the cover page of the "Nylon Magazine".
The next step is eye makeup. The Goths pay a lot of attention of their eye makeup, and they usually use a lot of dark shadows, and heavy black liners to complete their mysterious look. The most important thing about choosing the right makeup for your Gothic look, is to be yourself, and let the imagination and creativity to do this job for you. You can draw a spider, or spider's web, for example, right behind your eye. The darker you look, the more mysterious you will be. Just follow this sentence, and you'll never make a mistake.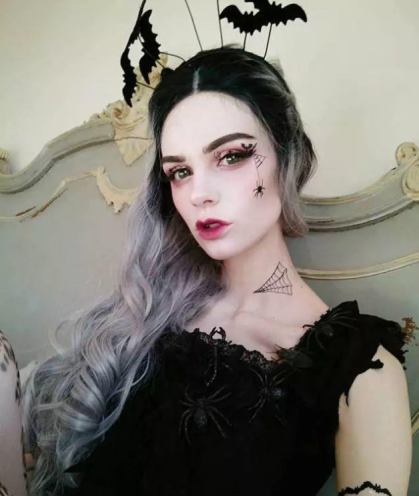 How to dress Goth?
1.Choosing the right clothing. This is probably the most difficult part, because you have to combine some of your black clothing in a quite unusual way. Goth punk clothing could be very attractive if combined well. Here are some advices for a handsome gothic effect with clothes:
The first combination: Choose some simple or printed T-shirts. They don't have to be all black, you can pick up some other color, as well: red, pink, or white. It could be well combined with leather pants or a punk Gothic leather jacket. To complete the look you should choose the perfect boots, if possible, black motorcycle boots, with some zippers on it, which are also very trendy. You can also pick up the creepers, one of the essential parts of Gothic wardrobe. Perfect casual look, isn't it?
The second combination: If you want to achieve elegance, or romantic look, you should definitely choose a Gothic gown, or a punk black skirt . To complete this look, you should pick up double-breasted women's cloak, and choose the perfect motorcycle boots.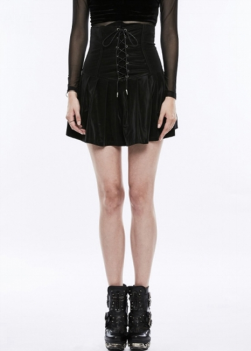 2.Picking the Gothic accessories: To complete your Gothic look, you should choose the perfect item. You can pick some of the accessories I've mentioned above, or you can simply wear a black hat. This is the perfect item, as it could be elegant and casual, as well.
3.Modifying your appearance:
Neon colored hair is the perfect way not to look monotonous with all those black clothing, don't you agree?
Get a stiletto manicure: a long nails style which could be perfectly completed by adding skulls, stars or pentagrams.
Why Avril Lavigne is a good example of a Gothic style?
This famous singer is the most striking symbol of a Gothic art, and a perfect example how somebody practicing this style could be wonderful and mysterious at the same time. All that goth punk clothing amazingly combined with the most craziest Gothic accessories the world have ever seen make her style unique, priceless, and very popular. She has a lot of tattoos: stars, Gothic style crosses, and skulls on her body, which are also the essential part of this culture.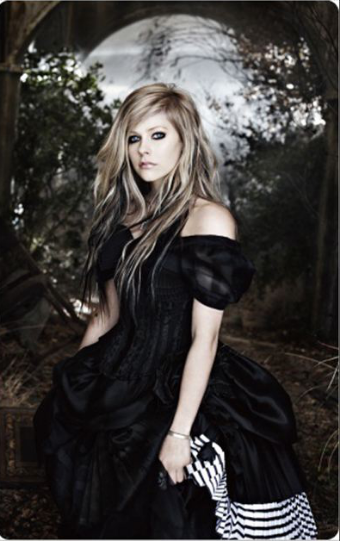 Here are some of her most popular Gothic combinations:
Short Gothic gown with natural hair, dark eyes, bright lipstick, black nails, and large Gothic cross made her look wonderful on the cover page for the "Nylon Magazine" 2004.
At the Teen Choice Awards, she wore a mini-plaid skirt, and a pair of Chuck's. With her smokey eyes, pink streaks in her hair, and statement fashion jewelry (black leather bracelet, and large metal necklace), her look was absolutely stunning!
2009 on the red carpet, she wore a Gothic skater dress combined with the perfect girly heels, and her statement jewelry, as well.
She also knew to combine a rocker leggings, fancy blazer, and edgy shoes, with half-shaved hair, and rainbow hair color.
Always innovative and creative, Avrile Lavigne knew how to bring the Gothic fashion to the highest level. Her dark beauty completed by the extraordinary Gothic accessories is very inspiring for many people, even nowadays.