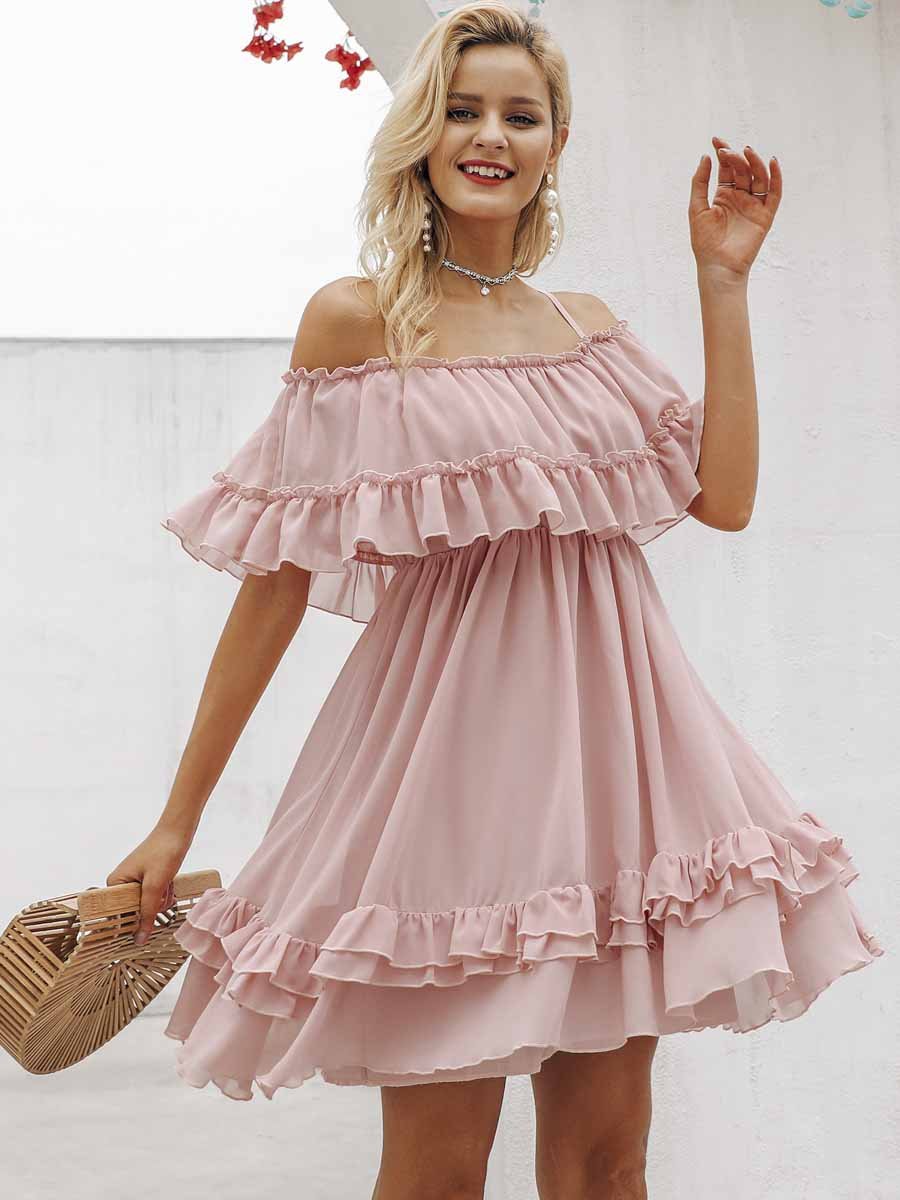 Styling Tips: How to Choose the Perfect Summer Dresses
With the summer season, new fashion trends arrive in the market. Girls search for various trending outfits that they can wear this summer season.  No matter you are a normal size or a plus size girl, there is no need to worry as all the collections are now also introduced in plus size. Some trending summer outfits to look for:
Off-shoulder ruffled dress
Off-shoulder dresses are ideal for summer wear. If you have amazing collar bones, you will rock these off-shoulder dresses. Most of these dresses are given the ruffles detailing that adds to the beauty of the dress. Pink is the perfect color for the summer and you can enhance the look by adding some pearly jewelry pieces you like. You can also wear a rhinestone choker with a dress.
Elegant ruffle off shoulder women dress Spaghetti strap chiffon summer dresses Casual holiday female pink short sundress
Stripped mini dress
The striped mini dress will give you a casual look that you desire. These are perfect for the plus-size ladies. They can be perfectly complemented with an overcoat or jacket on the top to make it more stylish. These striped dresses come with contrast colors generally black and white. The mini length of this dress makes it look cuter. You can wear sports shoes with this dress for a comfortable outing.
Yellow floral printed dress
Floral prints are the best friends of the summer season. You cannot miss the trend of floral prints in your summer outfits. This dress has smaller prints with fine detailing. The cross v neck design of the dress makes it more stylish. Ruffles at the bottom of the dress also add extra beauty. Some dresses also come with a waist tie. This waist tie helps to make your waist look small and gives more structure.
Bohemian Flutter Floral Summer Dress
High slit dress
There are many summer dresses which are specially designed for special occasions. High slit dresses are one of them. If you want to have a sexy glamorous look, you can choose any high slit dress. These dresses have back tie straps which make it more stylish. You can also explore the bold floral prints as they make the dress look more beautiful. This dress can be paired with transparent high heels for a classic look.
White cotton boho dress
White is the all-time favorite color in the summer season. Dresses in white color give you a relaxing look. Loose fitted cotton dress with boho style is perfect to get the summer vibes. You can pair these amazing dresses with white shoes if you want. If you are heading for the beach vacations this can be your ideal comfortable dress.