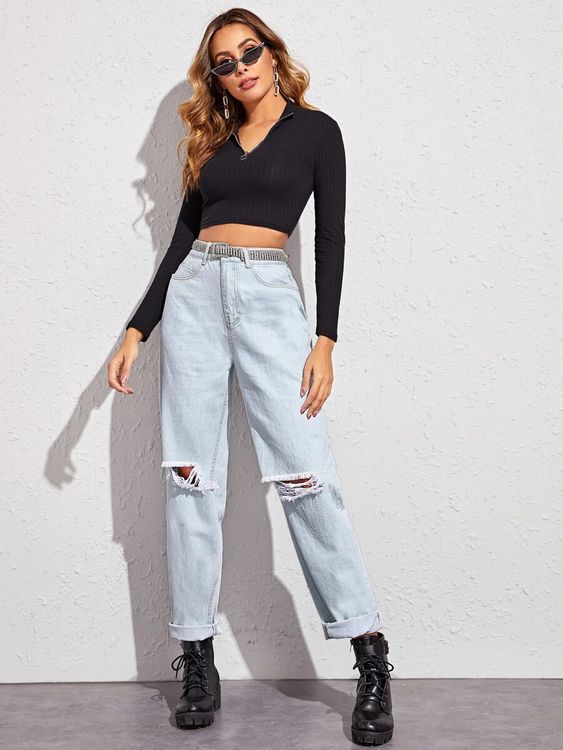 How To Style Baggy Mom Jeans
Many of us are used to wearing loungewear or sweatshirts since the lockdown and it is little wonder that designers are really focused on the comfortable dressing. Oversized T-shirts, blazers and shearling shoes take center stage on the Spring and Summer 2021 runways of Chanel and Balenciaga. It is no surprise that the season's biggest denim trend – mom jeans reigning in the denim trends. With the return of cardigans, tube tops and platform shoes, this nostalgic 90s fashion trend is the right-now staple.  
Mom jeans come in many different styles like slouchy, low-strung, loose and tapered shapes with high rise waist or wide leg. There is just a style to suit all tastes and preferences.  It is a staple denim piece that belongs in everyone's closet. Mom jeans exude a cool factor and make even the simplest of basic fashion such as T-shirts or hoodies feel fresh. Fashion girls and celebrities like Katie Holmes, Bella Hadid and Rihanna have been spotted wearing them. That said, mom jeans are a bit tricky to pull off. If you want to get yourself a pair or two and wondering how to style them, do scroll on for some mom jeans outfit ideas. 
Denim and leather are always great ideas. Look effortlessly stylish with a pair of mom jeans, a leather jacket and boots for an edgy look. For a casual Friday office ensemble, wear it with a white button-down and mules. 
For the winter season, oversized hoodies or sweaters are the perfect choices to go with your new denim. A simple black or grey hoodie and ankle boots will give you a modern look.
If you like denim on denim, you can layer on with a denim jacket. For contrast, wear a white tee underneath and leave a few buttons open.
Keep the shirt simple and tucked into your jeans to ensure that the waist is accentuated.
Keeping your top tucked into the jeans and ensuring that it stays there is rather difficult sometimes. The best solution is to wear a bodysuit with your mom jeans. When the temperature dips, add a cardigan for layering.
One of the easiest ways to dress up your mom jeans is to half tuck in your button-down shirt. A loose button-down shirt and heels add an effortless touch.