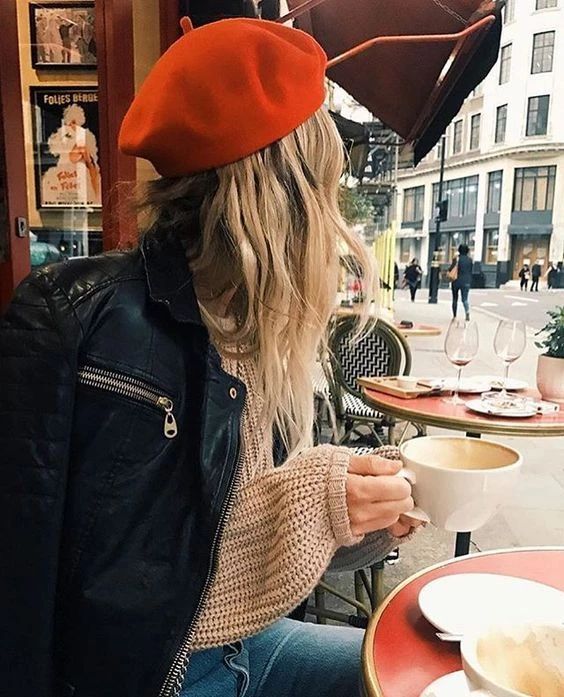 A beret is a classic hat style that is no longer just for the French. This buoyant chapeau has made its way into the fashion scene and is making a major comeback in the past season or two especially during fall and winter. Just like beanies, berets are soft and brimless and flatter all women. There is actually a whole range of different types of beret to choose from. Berets are usually made of wool, felt or knit makes it a good hat for the most part of winter. The modern takes on the hat are the leather berets.
There is no right or wrong way to wear this iconic French hat. You can try adjusting it yourself in different angles like tilting to one side, put it on the center of your head or wear it backward. Try an angle that you feel the most natural. If you are afraid that it might fall, just keep the beret secured with some bobby pins.
This French girl hat style adds a touch of coolness to any ensemble. Some women may find it difficult to style a beret without looking like they tried too hard. A beret is an accessory like a statement necklace, a chic bag or a pair of trendy shoes. It pairs well with almost everything but if you are unsure, here are some tips on what outfits to wear with a beret.
A beige beret will instantly add personality to this warm hue one-piece jumpsuit.
A bright colored beret can add a pop of color to a neutral outfit.
This gorgeous tan beret looks absolutely stunning with a ruffled top and denim. You can also wear it with a ruffled sweater. This classy tan beret worn over curled or wispy hair offers a breathtaking effect.
Black beret will never go wrong in the Fall. Match it with a cool black turtleneck and you are good to go.
Are you a big fan of Emily in Paris? If you are, you will notice that berets are essential in Lily Collin's wardrobe. Time to channel your inner Emily and whimsical spirit of the beret with a knit beret and a ruffled top or dress, complete with pearls for a dreamy romantic Parisian aesthetic.
The beauty of a beret is that is thick enough to keep your head warm when the temperature dips but also lightweight enough to be worn through spring. Berets pair well with long sleeve dresses and billowy tops that will definitely add a touch of femininity to your spring style. For an edgy look, pair the beret with a slip dress, boots and a leather jacket.
Don't overlook the hairstyle when you put on your beret. The best hairstyle to wear with beret hats is to let your hair loose. You can also go for a ponytail. Do keep in mind that a bun does not work with a beret.