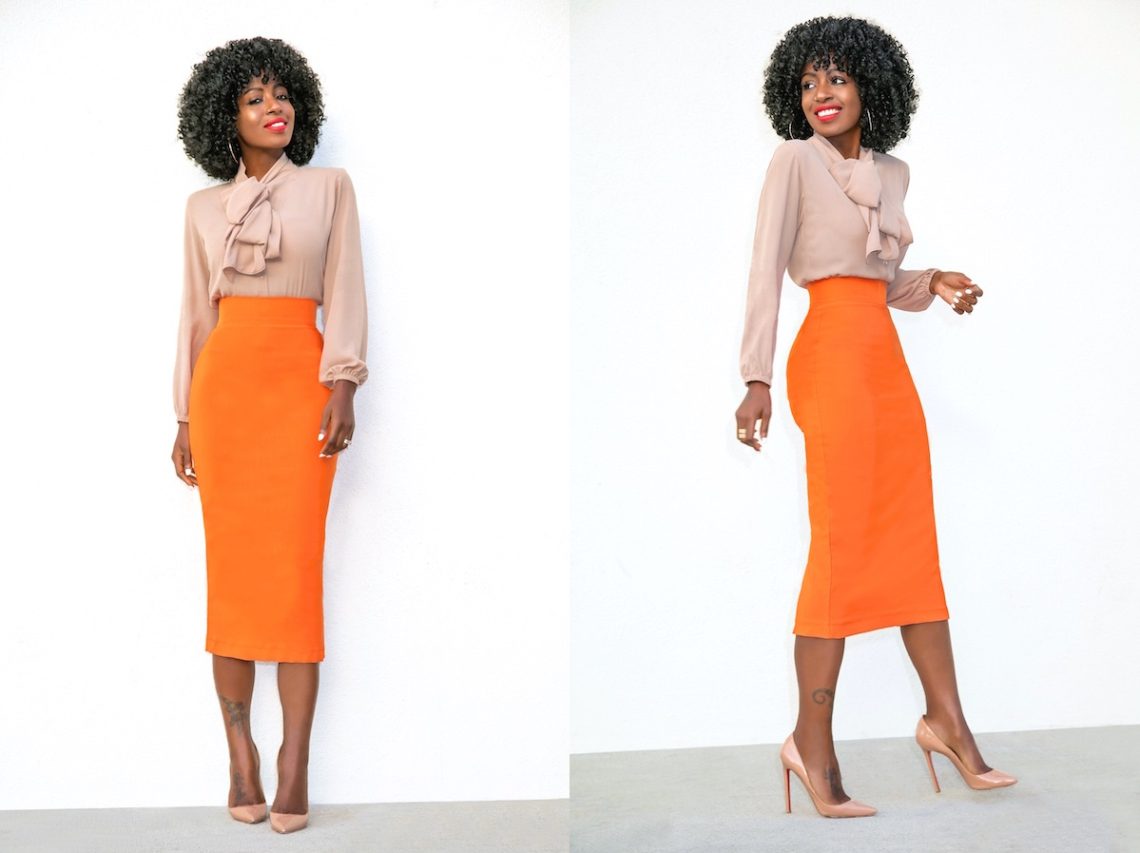 Show Off Your Pencil Skirt This Spring
Usually, the runways are good indicator of what is the next big trend. Take for example the Spring/Summer 2023 runway where designers have been showcasing hemlines that are getting longer and longer. Yes, we can all say goodbye to the minis that have been a stronghold in the fashion world like forever. Hemlines are surely getting longer. This trends for 2023 is here and if you are wondering what kind of skirts are in style and what type of skirts that you should start adding to your closet, well you will be surprised to know that pencil skirt is back.
Pencil skirts are straight and taper down as the hem approaches the knee. Some pencil skirts are longer and stop at the calf. These versatile pieces can be worn as formal and casual attire, depending on the type material and how it is styled.  The fashion trend cycle has made known that the pencil skirts on-trend and back on the agenda. Almost every woman has a pencil skirt in her closet. A workwear staple for decades, it was often seen as uncomfortable and rigid. However, designers have been coming out with different cuts and creating them to be more wearable. The pencil skirts fashion status was renewed at the autumn/winter 2023 runways recently.
Pencil skirts can give the illusion of a slimmer body. If you are wondering if a pencil skirt can be worn even if you have a belly, well the answer is a Yes! Many curvy women think that they cannot wear a skirt and that is not true. All you need is a pair of good shaping underwear to smooth things out and make you feel comfortable at the same time.  Are you tempted to jump onto the bandwagon but not sure where to start? You should take a look at these pencil skirt outfits for inspiration on how to style them this spring.
Long Pencil Skirts
Longer length pencil skirts were showing up on the Gucci, Prada and Fendi catwalks this season. Knee-length pencil skirt designs can create the impression of longer legs and give the illusion of a slender silhouette. They have been spotted on casual and work clothes. How to wear these skirts for both occasions depend on the accessories as well as the tops you pair them with. Oversized sweaters with pencil skirts will add a nonchalant flair to the ensemble while shirts or feminine tops are elegant when combined with these closet staples.
Pencil Skirt With Turtlenecks
Pairing pencil skirt with turtlenecks give a slick look. Who doesn't love a well-fitted outfit. Tie your hair neatly into a ponytail and add in a pair of pumps, and you are all set.
Leather Pencil Skirts with T-shirt
A leather pencil skirt is one of those essential pieces that you need in your wardrobe forever. For a modern update, put on the leather pencil skirt with a simple T-shirt. This outfit will look effortlessly put together. Change out the court shoes and put on a pair of strappy heels for this look. For a more casual approach, tie up the side of an oversized T-shirt and put on a pair of Converse shoes for a chic understated look.
Pencil Skirts With Crop Tops
This is one outfit that can take you from work to a date night or an after-party in minutes. Wear a black skirt, formal shirt, heels and a chain necklace for work. Change into a crop top after office hours and you are all set to paint the town red.
Pencil Skirt And Tank Top
If you have a brunch with friends, just throw on your pencil skirt and a tank top. Keep the top tucked in and complete the look with a pair of heels or sneakers.