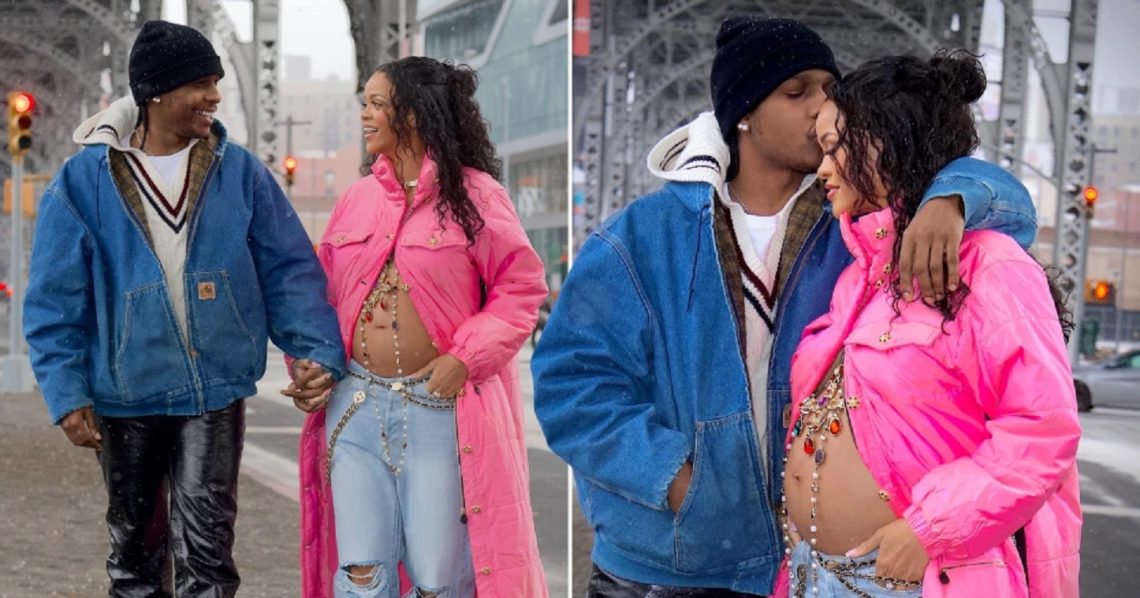 Still in Style: Rihanna's Fashion Maternity Wear
It probably took you a while to find out that Rihanna was pregnant. The singer and businesswoman first showed her maternity fashion in early February while walking with her partner, rapper ASAP Rocky. In low-waisted jeans, she wore a long pink sports coat, unbuttoned in the middle, adorned with long necklaces of pearls and stones.
Since then, many images – and looks – of Rihanna, her son and future baby have emerged. At the Dior Winter 2022 show in Paris. For the occasion, she chose a transparent dress, panties, bra and leather coat, all black and, of course, all from the French brand. A few days earlier, in Milan, she went to the Gucci show wearing velvet pants, a structured top and a purple plush coat. Not to mention the different bodysuits with front openings combined with jeans, knit dresses with cutouts and the jewelry and body chains, which she already wore before her pregnancy, she now has a new function, to beautify and enhance her belly.
Some say Rihanna is making a revolution. "She showed that it's not because she was pregnant that her personality changed," says Carla Lemos, creator of the Modices consultancy and author of the book Use Fashion in Your Favor. "This ends up being a stimulus, because we have few unconventional references of maternity fashion. The singer is important to show that pregnant can also be in fashion."
"I hope we can redefine what is considered 'decent' for pregnant women. My body is going through an incredible transition, and I have no reason to be ashamed of it. The moment has to be one of celebration. Why should you hide your pregnancy?" These are the words of Rihanna, given in an interview with Vogue USA magazine.
It is worth remembering that this is the same artist who revolutionized the diversity of bodies on the catwalk with her shows and put pregnant models to cross the catwalk. Last season, we saw a celebration of several pregnant women on Di Petsa's catwalk and mothers with toddlers on Elena Velez's show.
There is no right or wrong. While pregnancy is extremely liberating for many women, others feel the need to cover their bodies or wear clothes that "fit", without many options that consider their own style and personality. But Rihanna shows that pregnancy doesn't have to change a woman's style or how comfortable she feels with her body, it's something beautiful and that should be celebrated the way she wants to, including being as sensual as ever.
She may be covered from head to toe, she will still be a fashion goddess. The example is just above, when Rihanna opted for a red trench coat, matching her makeup. In the photo, she appears next to the rapper ASAP Rocky, father of the child she is expecting.
About the maternity style, Rihanna said that she will have a hard time letting go of the fashion she has been building during motherhood, but that she will also see the moment as a challenge. "I think in terms of fun and creativity, I gained an extra boost during pregnancy. And now I want that to continue in my life. There will be the other side of pregnancy, which is when your body is 'grabbed', and that will be a challenge." itself. So I'm looking forward to being creative at this stage as well."