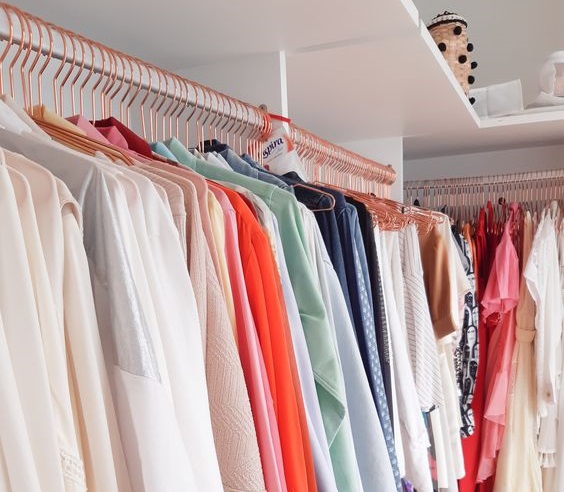 5 Easy Ways to Transform Your Wardrobe
Revamping your wardrobe doesn't necessarily have to be about buying and investing in new or many items. In fact, the more correctly you consume going forward and the more your closet matches your true self, personal style and lifestyle, the more effective and friendly it will be and the less you will need to buy to renew your productions. Get rid of excesses, the time is now! If you're going through phases of changes in your lifestyle, work, etc., it's an ideal time to review what you've saved, clean up what you need, and start rethinking shopping more consciously for your authentic self and, above all, that they are aggregators and not accumulators.
1-CLEAN YOUR WARDROBE
You must have clothes, bags and accessories that you have never used or used very little and insist on keeping them, because "one day" who knows, you will want to use them. This is the biggest mistake to have a harmonious, functional and current wardrobe.
First, because the accumulation of pieces does not allow you to clearly visualize what you have, what is fashion, what is basic, Second, because with so much "volume", you don't feel like messing with the drawers and hangers a lot and that way, you end up forgetting that piece you bought 5 months ago.
So the first part of the process is: Take a day to "clean out" your closet! Remove everything you haven't used for at least a year, don't feel sorry and let go. Today there are sites that only take care of this topic, sell what is still cool, but that you, for some reason, no longer want. Look item by item, analyze if you really need each piece, and what is no longer so desirable, pass it on. In addition to leaving more space in the closet and thus, more organization in your life, we clean the energy of the place, which is prepared for the new.
2-ORGANIZE YOUR PIECES BY COLOR OR TYPE OF PRODUCT
Even if you don't have a lot of space to put your clothes, it's possible to organize everything so that it's much easier to understand and see what's in the wardrobe. Put jeans in one part, then colored pants and then more classic pants, in neutral colors, for example. Same for shirts, put them in order of color or style. Already in the drawers, reserve a space only for the basics, then for the fashion pieces. Organize shoes and belts so you can see them. Nowadays, there are furniture and objects that help in the organization of each item. Shoes, for those who have little space like me, if left in boxes, are easier to store, stacking them. Try adding a photo corresponding to the template on the front of each box. This will help you A LOT when looking for the pair you want.
3-WHEN YOU HAVE TIME, PHOTOGRAPH EACH PIECE
I know you must be thinking: "but how to photograph, if I have so many pieces in my wardrobe, would I stay until 2030 to do it?" Okay, if you don't want to start shooting what you already have, start with the new models you acquire from now on. You don't need to photograph the basics, but the most special items. You can even have these photos on your cell phone and every time you compose a look, take a look. This helps you to keep in memory the items you already have or that you bought a little while ago and better, to make the selection of those you REALLY need to buy. If possible, make folders on your computer or cell phone, by type of product photographed, pants, blouse, shirt, shoes, accessories and so on clothes is enough.
4-ANALYZE THE ITEMS YOU REALLY NEED TO BUY
After cleaning your closet, organizing the pieces and taking photos (if possible), it's time to understand what you already have, the items you will continue to use and what you "really" need to buy, that fashion piece that you really want to invest and even the basics that are necessary and that at times need to be replaced. Always analyze "your personal style", your current lifestyle and what's missing in the closet, to serve them. So, look, analyze, think, get information, research, have a notebook where you can write down "the shopping needs and desires of the moment" or the season, and voilà, you already have your "priority" list for the next purchases. Remember: everything you consume for your day to day (apart from occasional consumptions such as parties, etc.), needs to be multiplied with the pieces that are already in your wardrobe.
5-RESEARCH A LOT BEFORE BUYING SOMETHING
First step, if you've had something on your mind for days, it's because you really want it, so RESEARCH a lot.
If you prefer to search in stores, don't take the cash/card or at the time of purchase, take a break and ask yourself: "Do I really need this item or is it the desire of the moment"? Can be used to compose productions, with how many pieces from my closet? What will it be used for? You can write these questions down in your cell phone notebook and every time you consume something, answer each one before running out to buy.
If you're going to search on the internet, it's easier, write down the sites where the desired item is present, colors, prices, make a list and save the links of the products you liked the most. After a few minutes, you will have clear in your notes which are the best sites for your purchase and what you really need.
And if you want to do better, search both on websites and in physical stores. Only after this extensive research do you make your choice. Remember, there are very similar items with huge price differences. Understand that many "amazing" brands have high prices, as their fixed cost is similarly high and this is passed on to the higher final product price (store rent at the best mall, etc.). So pay attention to everything. You can be sure that if you are in the habit of buying according to the tips given here, you will leave with your renewed outook more satisfied and happy, for having made good investments.