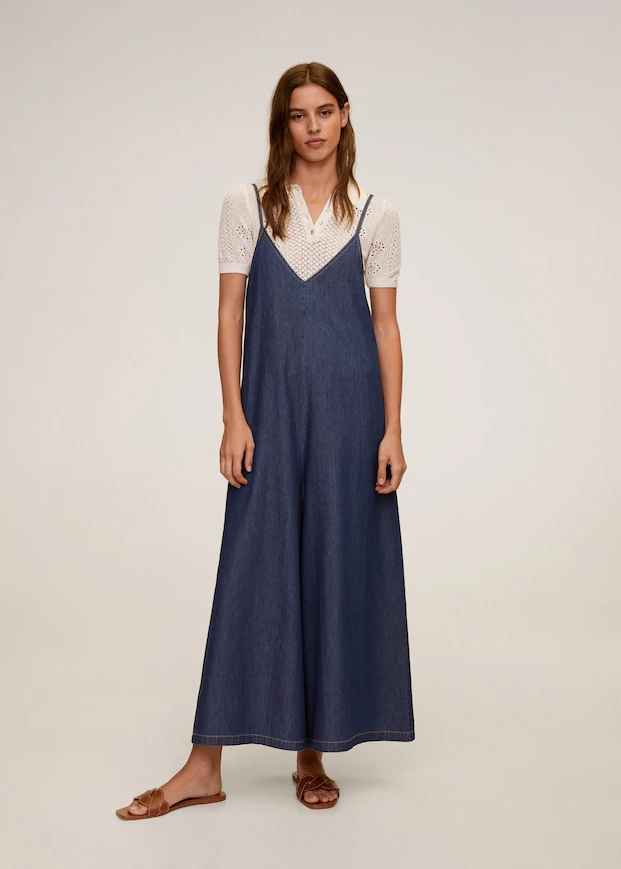 6 Jumpsuits to Add to Your Fall Wardrobe
Jumpsuits are great clothing items to have especially for a lady who`s always on the go like you. They`re easy to wear, accessorize and store. They can be worn to any occasion whether it`s casual or a more formal event. This fall, here are 6 jumpsuits you can keep in your style capsule:
1. Long Denim Jumpsuit
Denim Jumpsuits are quite versatile especially if you want to dress up a bit for a casual day. You can simply wear a plain round neck shirt or striped shirt underneath, a pair of white sneakers, and accessorize with simple jewelry.
If you want to make a long denim jumpsuit more office-appropriate, you can wear this with a white blazer and a pair of strappy heels.
2. Belted-Puff Sleeve Jumpsuit
Puff sleeves are definitely a trend this 2020 and a great way to have puff sleeves in your outfit is through a jumpsuit. For an edgier look, you can opt for a belted-puff sleeve jumpsuit that you can easily style with a pair of combat boots or black slouchy boots.
This look is an absolute killer and you can rock this outfit in the office or at a more formal event especially if your jumpsuit is all black or all white.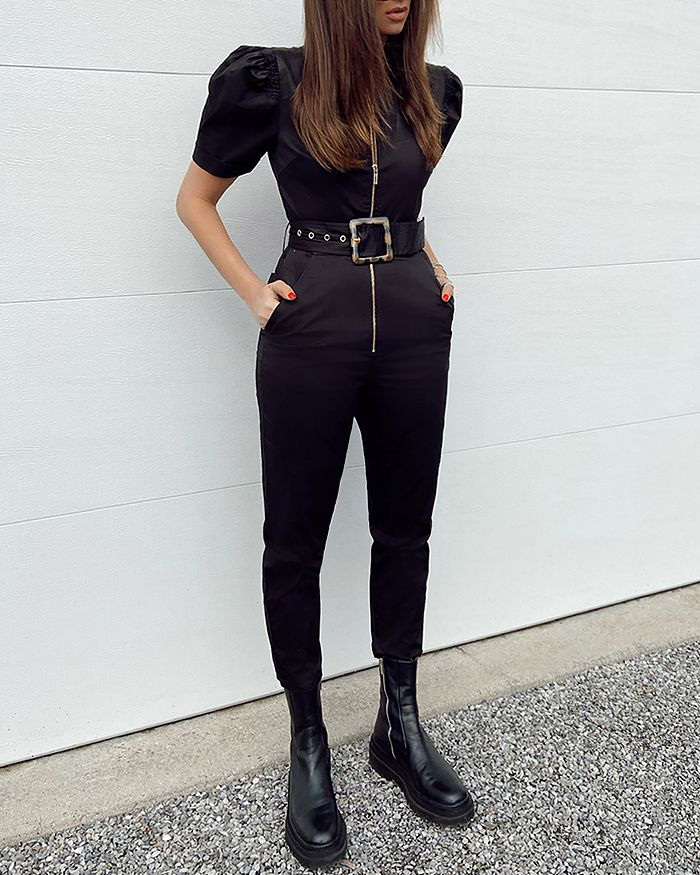 3. Lace Jumpsuit
A lace jumpsuit makes the androgynous look of jumpsuits a bit more feminine. You can wear a lace jumpsuit with a pair of strappy sandals, wedges, or kitten heels. This is an excellent choice of jumpsuit for a more elegant and chic look.
You can definitely rock this outfit with your most-loved designer bag or purse. To complete the look, you can wear fancy jewelry like gold.
4. Ruffle Jumpsuit
Ruffle jumpsuits don`t need to look obnoxiously ugly. In fact, ruffles can create a unique cute for your suit. Just like this black Petite Illusion Ruffle Jumpsuit by R&M Richards. The jumpsuit has a beautiful cut seemingly like an off-the-shoulder cut which was covered by the sheer fabric. In this particular outfit, the ruffles created a smooth transition from the jumpsuit to its sheer fabric covering around the shoulders and arms.
You can definitely wear this with a pair of square toe block heels, and accessorize with simple gold or silver jewelry. This is absolutely a fashion-forward way to dress up to work.
5. Wide-Leg Jumpsuit
Wide-leg pants are making a comeback this year and incorporating them into a jumpsuit is no exception! For this fall, you can find a wide-leg linen blend jumpsuit with a tie-up bow as your top for a cute and charming look.
You can wear this with a statement necklace and a pair of strappy sandals or a pair of square toe heels.
6. Chic Jumpsuit
For a chic office look, opt for a jumpsuit with a low V-Neckline, puffy sleeves which cinch at the bottom, and pleated pockets. You can wear this with a pair of sandals or wedges, and accessorize with classy jewelry pieces. This is also the perfect time to carry a white or black soft clutch or handbag.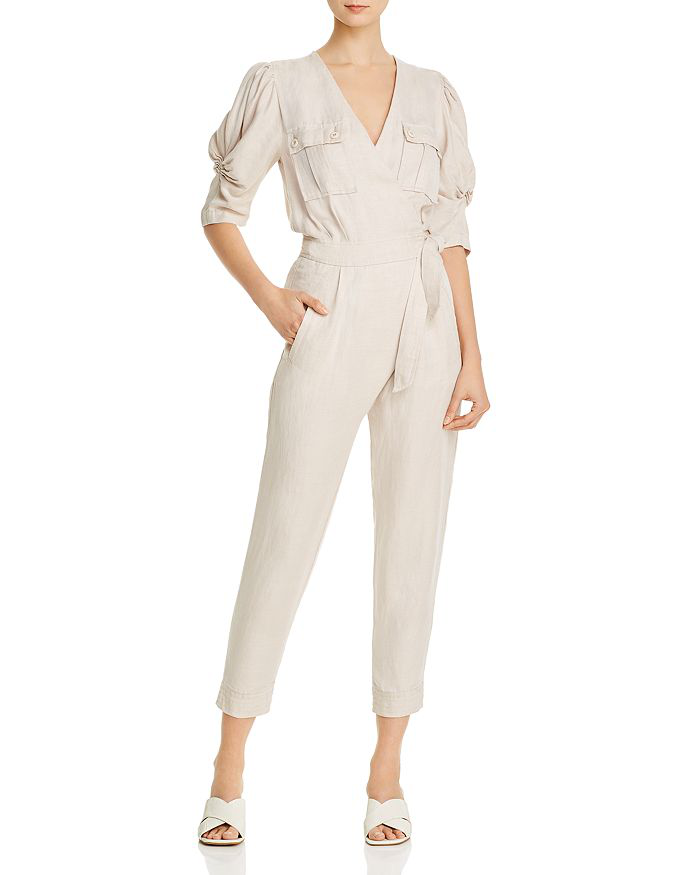 There are a variety of jumpsuit styles which is why choosing a few pieces for fall which are versatile, stylish, and reasonably-priced are very important to make sure that you can`t just wear your jumpsuits during fall but all around the year. Accessorizing jumpsuits with appropriate shoes and complementary clothing pieces are equally essential to buying versatile clothes.