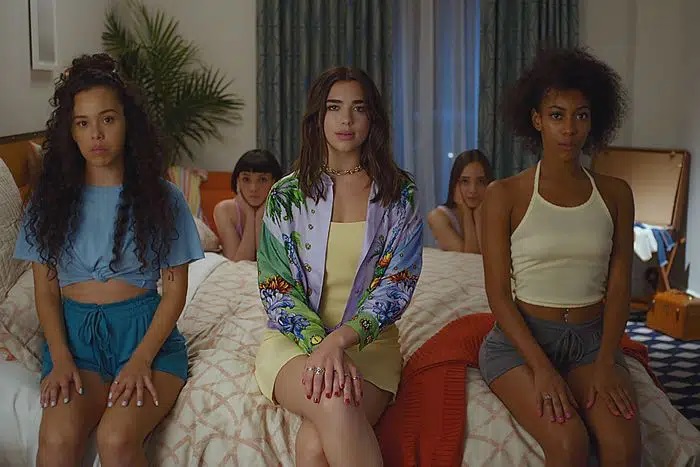 7 Celebrity Fashion Trends and How to Recreate Them on a Budget
Fashionistas, are you tired of scrolling through Instagram and wishing you could have the same wardrobe as your favorite celebrities? Don't worry about breaking the bank any longer! We've scoured the internet to find seven iconic fashion looks from the hottest celebrities that won't break the bank. From classic red-carpet vibes to daring street style, we've got you covered. Channel your inner fashionista and recreate these looks for a fraction of the cost. You'll be turning heads and feeling like a star in no time! Let's get started!
Sara's Pastel Cropped Blazer & Trousers
Introducing the ultimate summer style – a dreamy pastel pink suit paired with a crisp white tee. Sara owned the fashion game with a refreshing and chic ensemble courtesy of Appapop. The striking yet easy-going combo featuring a blazer and trousers set will leave you feeling confident and stylish. For those on a budget, you can still rock a similar look without breaking the bank. Don't be afraid to mix in some unique and playful accessories, like a pair of mint sunnies – the perfect finishing touch!
Selena Gomez's Daytime Look
Looking for an outfit that screams effortless and chic? Take a page from Selena Gomez's style book and opt for a flowing white maxi dress. Whether you're hitting the beach or hanging out with your friends, this piece is perfect for those casual daytime outings. Keep it simple by pairing it with some comfy slides and a bun – it doesn't get any easier than that! And if you're headed for a date night, just throw on a net shrug to add some elegance and romance. This versatile dress is the perfect addition to any wardrobe.
Recreate Kim Kardashian's Chic and Comfy Outfit
Achieving a Kardashian-level fashion statement may seem daunting, but you can rock Kim K's effortless all-black ensemble without breaking a sweat! Throw on a pair of comfy, loose-fitting sweatpants, an oversized sweatshirt, and stylish sneakers for the ultimate combination of comfort and class. For a touch of edge, cap off the look with a stylish baseball hat. You'll be ready to hit the town and turn heads with your chic celebrity style!
Recreate Beyonce's Colorful Outfit for Summer
Looking for a sizzling summer style that's both bold and breezy? Channel your inner Beyonce with an electrifying combo of an orange cut-off top and pretty pink shorts. This dazzling duo is sure to make a splash and keep you comfortable all season long. Don't forget to add a touch of glam with some nude lipstick to make those colors pop. For an extra dash of a diva, slip on some sweet pink heels and toss in a stylish bag to complete that Mean Girls vibe. Get ready to turn some heads and make a statement with this haute look!
Dua Lipa's Chic Look for Home Parties
Be your own fashion icon while you stay at home and attend virtual parties. Who says you can't look stunning during quarantine? Inspired by Dua Lipa, try layering a bright yellow dress with a printed button-down shirt for an effortless and stylish look. Accessorize with attention-grabbing statement jewelry – bold gold necklaces, stacked bangles, and unique earrings – to add depth and dimension. Want to take it up a notch? Throw on some sleek pumps to complete the outfit and keep heads turning. Don't let social distancing stop you from showing off your amazing style!
Victoria Justice's Zebra Print Blazer Street Style
The sky is the limit when it comes to fashion. Victoria Justice demonstrated the magic of a statement blazer by flaunting her stunning zebra printed blazer, combined with sleek black trousers for a chic look. And the magic does not end there! You can jazz it up with fiery red lipstick and a pair of sunglasses to make it your own, or better yet, why not add some metallic pants to embrace your adventurous inner side? This captivating look is perfect for a daytime birthday bash, guaranteed to turn heads and leave a lasting impression. So don't be afraid to have fun with your wardrobe and experiment with all the possibilities that fashion has to offer.
Kris Jenner Suit Pant
Looking to exude a powerful and sophisticated vibe? Look no further than the pantsuit. Kris Jenner has become a fashion icon for rocking this timeless and versatile ensemble. With a delicate necklace and a pair of metallic heels, you can balance out the masculinity of the suit and elevate the look to new heights. This outfit can be rocked at the office, at a dinner gathering, or on any special occasion. Whether you choose a bold color or a classic neutral, channel your inner Kris Jenner and confidently show the world who's boss in a killer pantsuit.
Regardless of your sartorial preferences, you can always elevate your fashion sense with some celebrity-inspired outfits. Feast your eyes on these seven style ideas that are certain to tickle your fancy. Whether you're aiming for a sophisticated look for a night out or a casual chic ensemble for a day off, you'll find plenty of inspiration here. With a touch of creativity, you can tweak these outfits to make them your own and own the spotlight. So come on, let's explore these fashion staples and unleash your fashionista side!