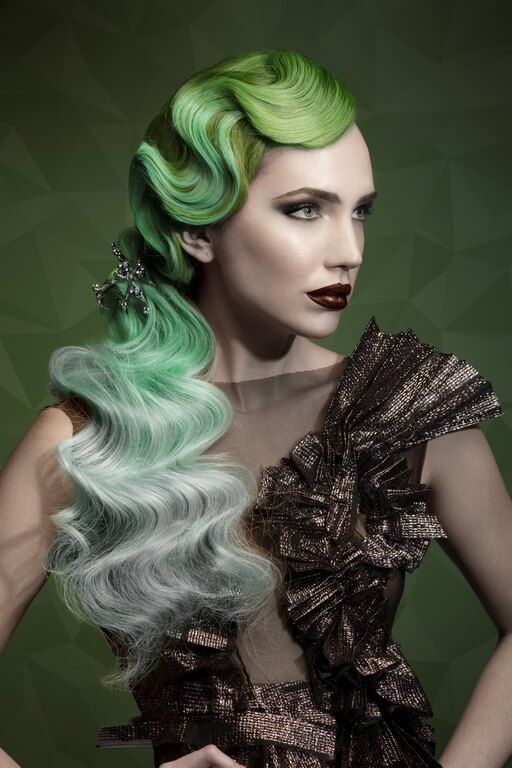 Green Hair Is Going To Be One of Fall's Biggest Trend
After a long summer, there is something refreshing about bringing out the cozy sweaters from the back of the closet, moving all of the rustic lipstick shades to the front of your vanity table, and planning new fall color. If you are looking to give your hair an updated look this fall, well brace yourself. This is because green hair is going to be one of fall's biggest trends in terms of hair color. Wait a minute. Before you start clicking that back button and think that the green color is not for you, do give it a chance.
This fresh new tint just makes you look really cool. Depending on your skin tone and your hair's natural base color, there are many different ways that you can have this hair color. There is the lime green shade like Billie Eilish, seafoam green like Kylie Jenner or mint green like Cardi B. There is also dark olive which is perfect for anyone with darker features. Now that you have an idea that green is the perfect color for anyone who wants to give their hair an edgy vibe, keep scrolling for some green hair inspiration.
Dip Dyed Green Hair
For those who do not want green on the roots, go for dip-dyed hair. Opt for a dark green shade if you want a bold color that your naturally dark hair can seamlessly transition to. It is edgy and easy to maintain.
Emerald Green Hair
This rich jewel-toned hair color can be worn on its own or with a rooted mane for an extra edgy emerald green hair look. The deep, rich shade makes this hair color a statement without being too neon. The depth and dimension of this tone make it flattering on a wide variety of skin tones.
Mint Green Hair
The pastel tone of this silvery mint color works on any skin tone. It has a very light blonde undertone. The green dye will change and fade a little with every hair wash. It is beautiful and fleeting.
Moss Green Hair
If you love gray and yellow undertones of olive green, you will love moss green. This hue features the same undertones and is flattering on all skin tones. It is the perfect color for a first-timer who wants to try out the green hair color trend because it is subdued and bold.