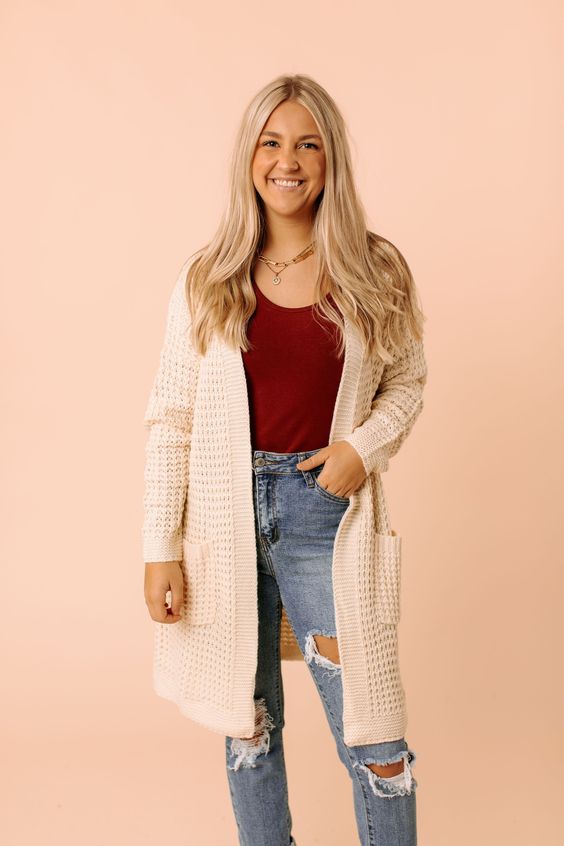 STUNNING LOOK TO WEAR KNITTED CARDIGAN
At that time of the year. It's time to warm up in our knitted warm cardigans sip hot chocolate and enjoy the upcoming winter. We don't know about you. But we love the winter as much as we love summer. You should probably already assume that we are going to talk about cardigans because of the title. Cardigans are a perfect fashion piece because you can wear it in so many different ways. For example, You could throw over you outfit of the day when it gets to chilly. The good thing about them is that you could throw them over almost everything – shirt, T-shirt, dress, you choose … Nothing stops you to do the layering thing and wear it under a coat or a leather jacket.
When you wear cardigan you want to look fashionable and modern and not like you left your house in loungewear. The key is to add some really interesting accessories like huge sunnies, a statement bag, or for example just wear it under a leather jacket.
The other thing you should pay attention to are probably materials. Our guess is that you don't want to buy a polyester cardigan which will look presentable during that season but later it would kind of a fall apart. The best option when it comes to knitwear is to always go for wool or cashmere.
Those ones will keep you warm and make you feel comfortable at the same time. We decided to through websites of fashion online stores pick out some of our favorite cardigans in hope to inspire you. Let's have a look:
H&M CARDIGAN WITH TIE BELT – This such a simple minimalistic piece which can be absolutely gorgeous with oversized sunglasses worn as a casual but sheek.
COTTON BUTTON DETAILED CARDIGAN – This classy cardigan will be great to throw on under u semi elegant outfit.
MASSIMO DUTTI CARDIGAN – This is a different type of cardigan. It's a long duster cardigan meant for casual everyday occasions.
MANGO CARDIGAN – Who could resist this cardigan? Those buttons gave a genius modern touch to this simple cardigan. You can wear this over a simple outfit and look absolutely amazing.
MANGO PEAR CARDIGAN – We saved the best for the end. This is an absolutely gorgeous cardigan with pearl details.